INTERSIM/HSH BOOKING PROCEDURES & FORMS
For enquiries, please email the operations co-ordinator: g.luke@qub.ac.uk or contact the InterSim team: InterSim@qub.ac.uk
Introduction
InterSim and HSH are specialised facilities in FMHLS with the key aim of supporting health professional staff to deliver high-quality experiential education. This document outlines the booking process for activity in these facilities. While our priority is to accommodate QUB educational bookings, we are also open to and encourage requests for external bookings. Booking arrangements for InterSim and HSH are as follows.
Booking priority criteria for InterSim*
Priority for InterSim bookings is as follows:
1st priority: Interprofessional simulation-based teaching
2nd priority: Uni-professional simulation-based teaching
3rd priority: Non-simulation-based activities
4th priority: External booking requests
Booking priority criteria for HSH*
Priority for bookings is as follows:
1st priority: Clinical assessments
2nd priority: Clinical skills teaching
*Exceptions to these priorities will be considered by the InterSim Governance Group (IGG). The example given here is the agreement by IGG/Faculty MHLS for Final MB OSCE examinations to have top priority for InterSim and HSH booking for dates typically in February each year.
Booking Requests
Quality improvement
InterSim is committed to quality improvement of its facilities and booking process. All users will be asked to provide feedback to reinforce good practice and make suggestions for future improvement.
Booking appeals process
The InterSim/HSH staff strive to accommodate all users where possible. The booking process and priority criteria aim to provide transparency to our procedures. InterSim team will seek a satisfactory solution where a user has not been adjusted, adopting a collegial approach with all relevant parties. If the booking request cannot be accommodated, the requester will have the opportunity to appeal this decision. They will be asked to complete an appeal form, which will be considered by the Dean of Education and Director of Operations in the FMHLS.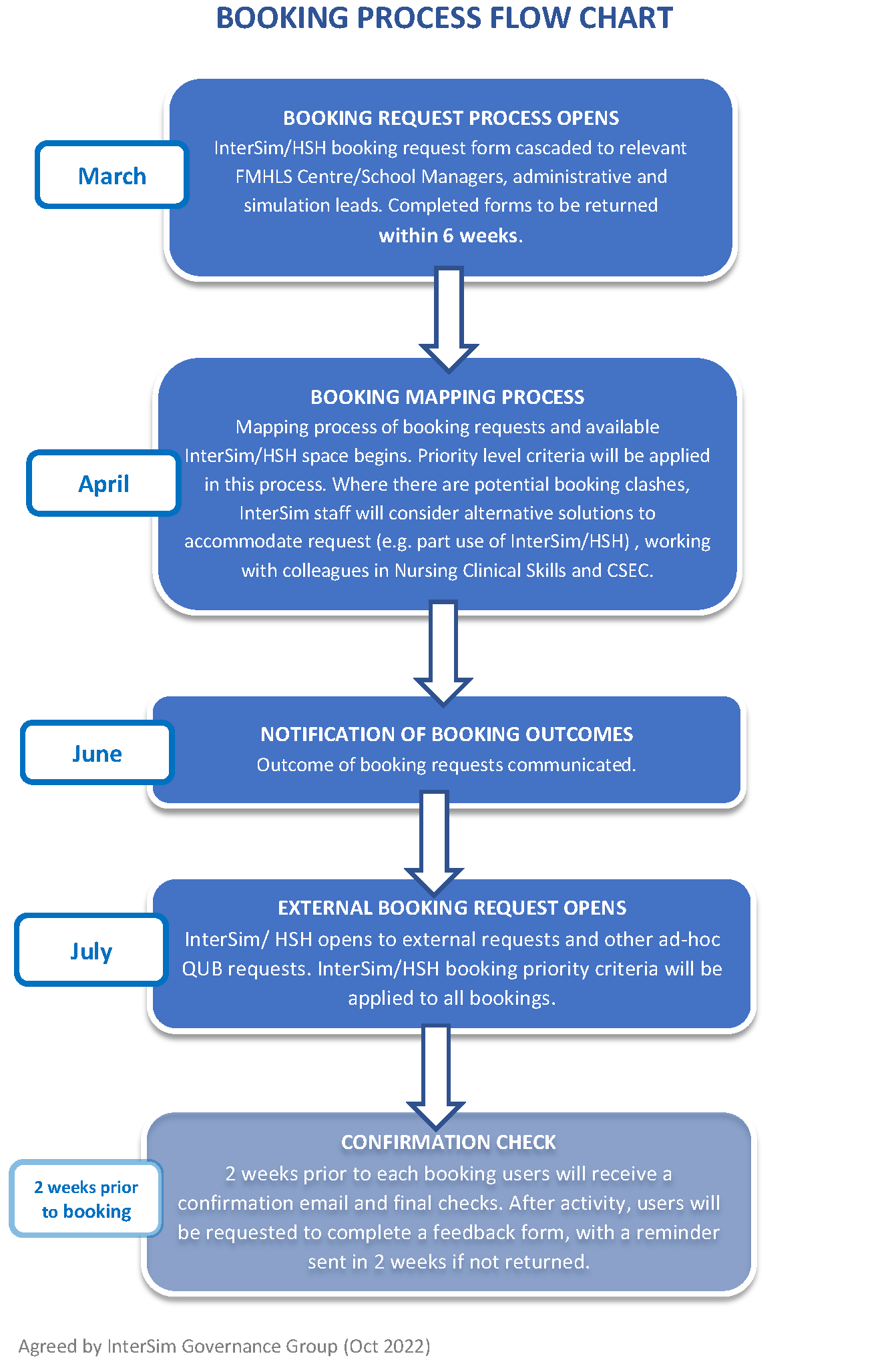 Agreed by InterSim Governance Group (Oct 2022)